13×4 lace front wig vs 4×4 lace closure wig, how to choose?
Sep 20,2023 | OhMyPretty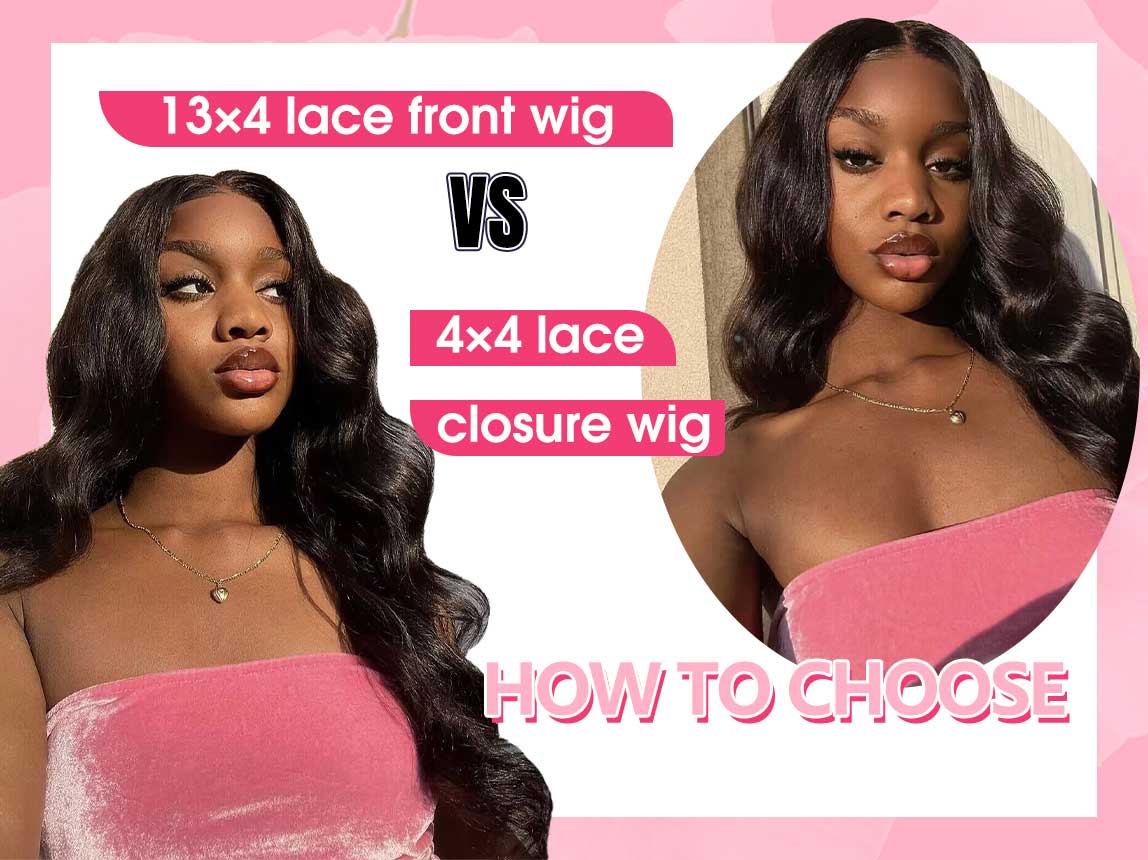 How to choose a 13×4 lace front wig vs a 4×4 lace closure wig, has become a basic wig knowledge that more and more girls pay attention to. In this post, you will get the answer about the differences and choose tips about them.
What is a 4x4 lace wig?
A 4×4 lace closure wig refers to a lace wig with a size of 4×4 inches. The cover is usually attached to the front of the wig and is intended to create a natural hairline. 4x4 lace wigs cover a smaller area than other types of lace wigs.
What is 13×4 lace front wig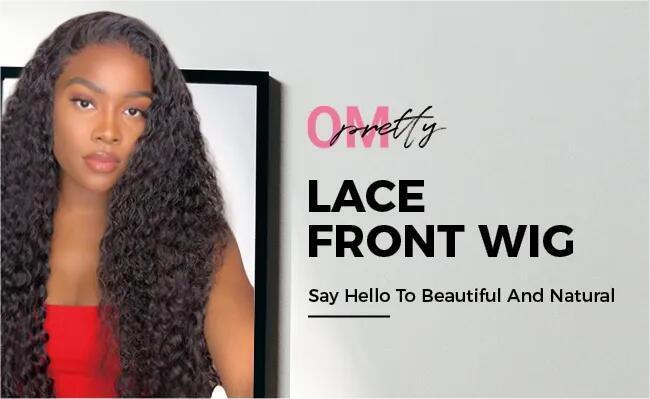 13x4 lace frontal wig refers to a wig with a front lace length of 13 inches wide and 4 inches deep. This means the lace extends 13 inches across the hairline at the front and 4 inches from the hairline to the back of the wig. This wig is popular and loved by most girls due to its natural and realistic hairline and various styling options.
4x4 lace wig vs 13×4 lace wig, how to choose?
There are several factors to consider when choosing between a 4x4 lace wig and a 13x4 lace wig. Here's a guide to help you make an informed decision.
Lace coverage
The main difference between the two is the insurance coverage provided. If you want a simple but solid look, a 4x4 lace wig is the perfect choice. If you want to diversify your look, a 13x4 lace wig is a good choice because of its wide coverage.
Realistic degree
Consider how natural and seamless you want your hairline to look. 13x4 lace frontal wigs tend to achieve a more natural hairline due to the larger area of ​​lace. However, you can also make your wig more realistic by properly installing and handling it.
Personal Preference
Ultimately, your choice will depend on your personal preferences and goals. If you prefer a wig that looks more natural and has a wider lace area, choose a 13x4 lace wig. If you're used to small parts and want a more cost-effective wig, a 4x4 lace wig may be a better option.
Remember to think about your desired style, the coverage you need, and the overall look you want to achieve. Both options have their advantages. Therefore, choose the hairstyle that best suits your tastes and wishes.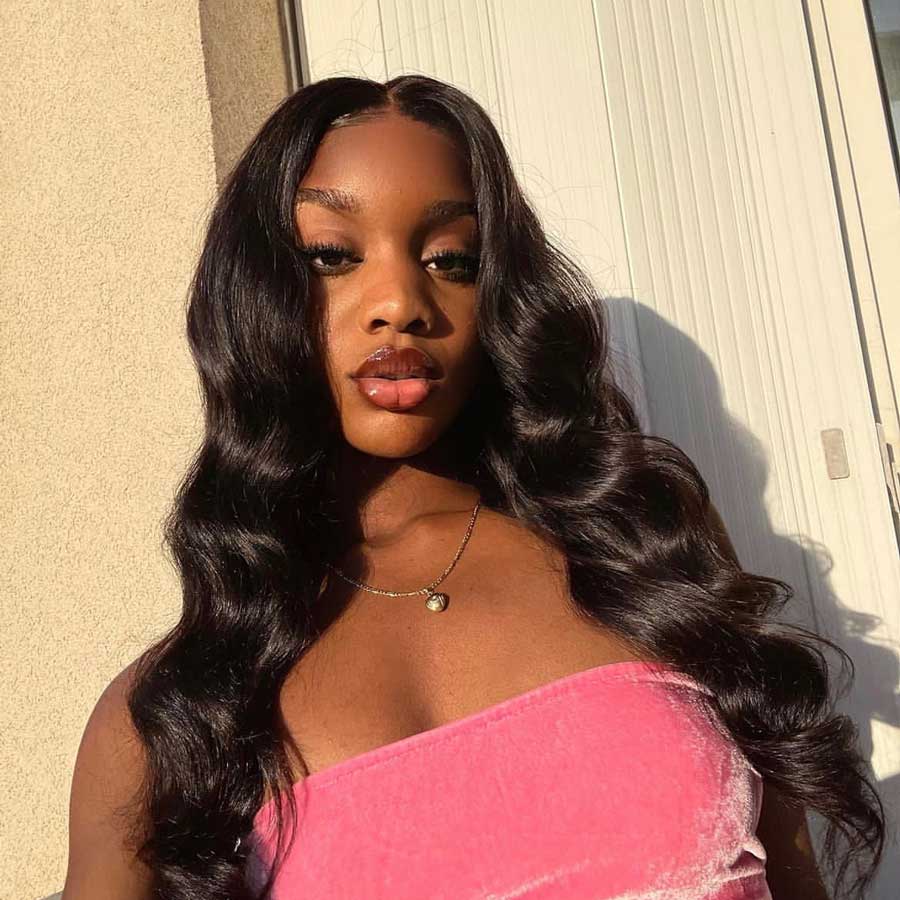 The difference between a 13x4 lace front wig vs a 4x4 lace closure wig
A difference in lace sizes:
A large lace size allows you to easily create natural hairlines without worrying about your natural hair being visible. 4x4 lace closures are small at 4x4 inches lace and have limited coverage, allowing you to create a natural, isolated look. On the other hand, 13x4 lace wigs are larger at 13x4 inches lace and offer more coverage, allowing for more features and a larger independent area.
Styling options:
Due to their larger size, 4x4 lace closures offer fewer styling options. It is often used to make middle and side parts. 4×4 lace wigs are often used as glueless wigs, and you can directly pull the wig to the desired position to create different hairstyles. 13x4 lace wigs cover your hairline better, so they are less likely to fall out when you play or do some sports. This allows for a variety of styling options, including different parted wigs, updos, and ponytail hairstyles.
Realistic hairline:
A 4x4 closure wig can create a natural hairline on the front when properly installed and blended. However, the hairline next to the ears may be somewhat restricted and the wig cannot be adjusted significantly, only maintaining a center or side parting. However, the 13x4 lace wig has a larger lace area, and the glue and lace bonding can handle the hairline more firmly, making the hairline more realistic and seamless.
Wig price
Most of the price of lace wigs is the lace part, which requires a lot of work. If you're not sure exactly how much your wig is worth, look at the lace part. Under normal circumstances, the larger the lace area, the more natural the wig will be, and the higher the wig price.
It is important to choose the wig or wig size that best suits your needs and ideal style. To make the right choice, consider factors such as coverage, versatility, and price.
---
Final words
A 13×4 lace frontal wig and 4×4 lace closure wig can all achieve the perfect wig-wearing effect. How to choose the right wig between them, that's all depends on your needs. If you already have goals, welcome to OhMyPretty to get a high-quality wig.
Reading recommendations
■ What are the most realistic human hair wigs?
Comment