Deep Wave VS Water Wave: Detailed Difference Guide
Oct 20,2023 | OhMyPretty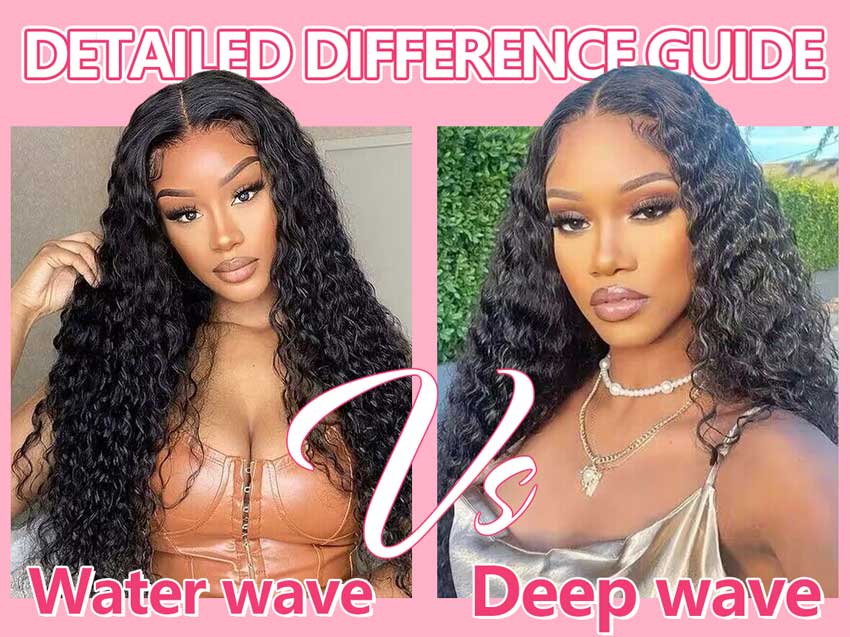 Deep Wave vs Water Wave, what's the difference? This question is bound to bother you because their patterns are so similar. Reading this blog, will answer your doubts and let you quickly understand the difference between Water Wave and Deep Wave.
What is the Deep Wave Hair
Deep wave hair is a pattern that is neatly curled horizontally and in an S shape vertically, with each S facing the same direction.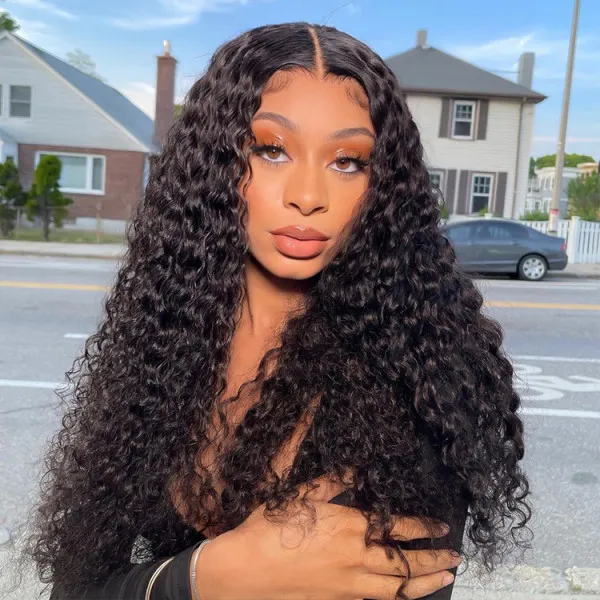 Characteristics Of Deep Wave Hair
- The curl is regular and uniform, and all the curls are lined up in both horizontal and vertical directions.
- The shape of the curl is S-shaped, which is a classic curl with a retro feel.
- Made from 100% real hair, which can be bleached and dyed.
- Variable shape, you can use it to create a variety of shapes to meet the needs of different occasions.
What are the water Wave Hair
Water wave hair is a kind of curly hair wig with natural waves. The size of the volumes is similar to a deep wave, but all the volumes do not face in the same direction and there is no pattern in their appearance.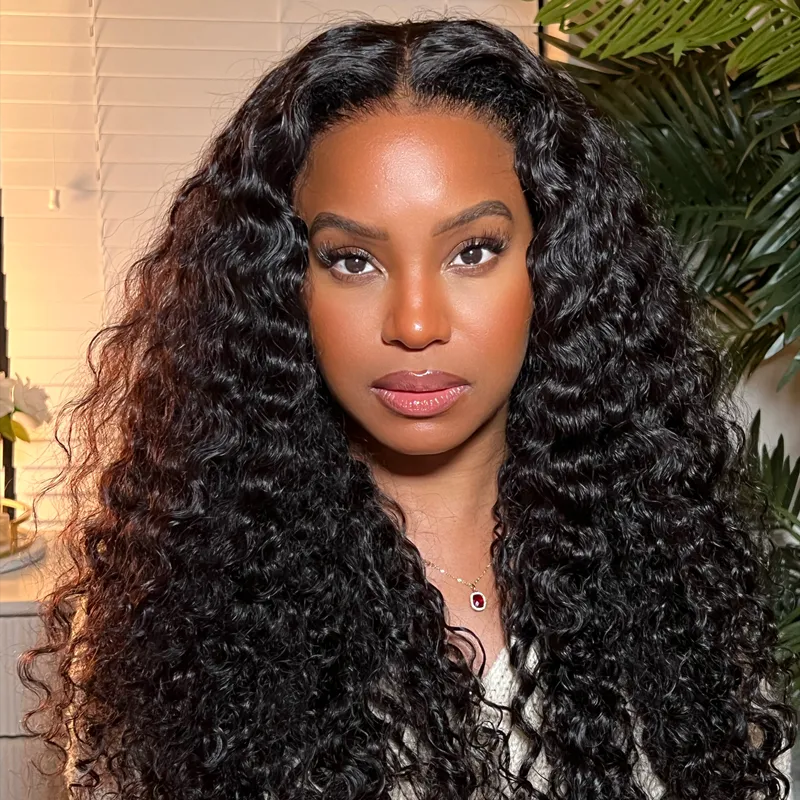 Characteristics Of Water Wave Hair
- The curls of the hair are irregular and go in all directions, similar to spontaneous curls
- Curls in all directions increase the volume of curly hair, which looks more voluminous and fuller in appearance.
- The curl is S-shaped, and the size of the curl is medium, suitable for long or medium hair.
- Can create a variety of hairstyles, such as the very classic wet hairstyle.
Deep wave vs water wave: what's the difference?
The main difference between the deep wave and the water wave is that the deep wave is neat in appearance and curled in the same direction; The water wave rolls in random directions. In addition to this primary difference, there are also some differences in texture, volume, modeling and maintenance: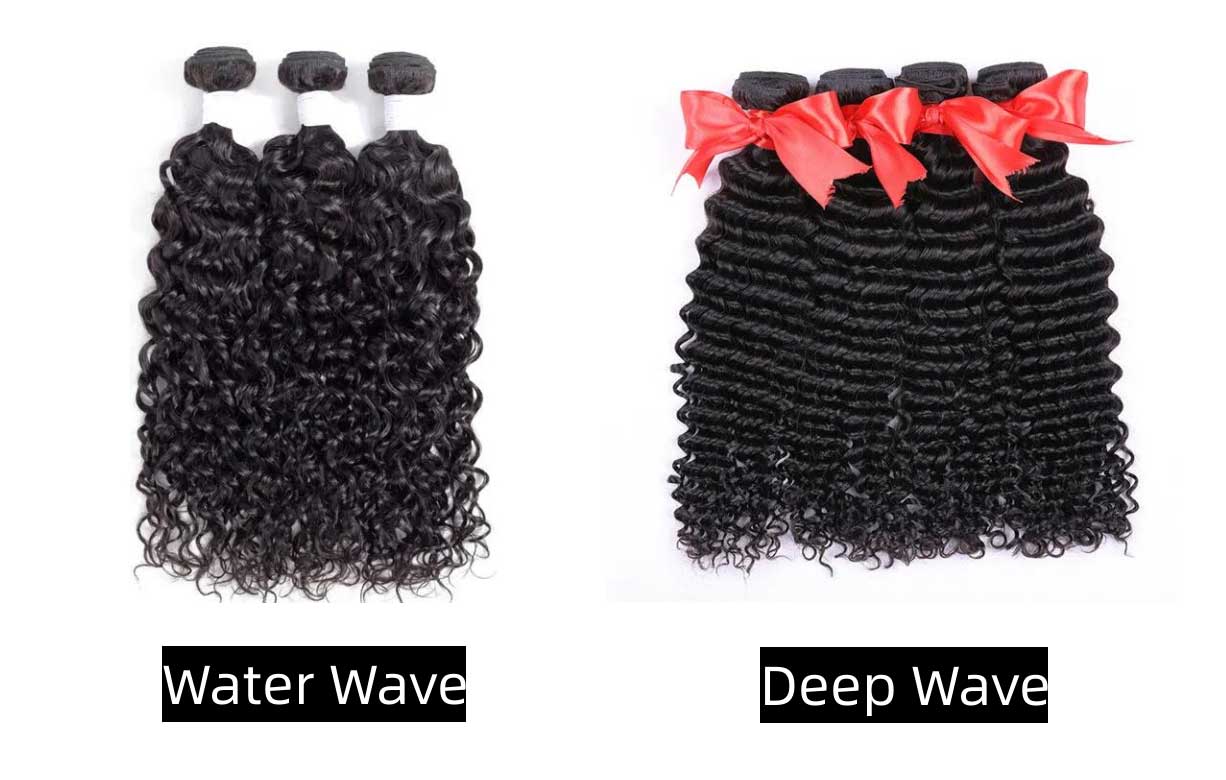 Wave Pattern
In the arrangement of the volume, the water wave curls in all directions irregularly, the shape of the volume is like water waves, showing an irregular wave. The volume of deep wave is very neat, and the size, orientation, shape, and arrangement of each volume are at the same level, which is also the main difference between water wave and deep wave.
Wig Hair Texture
In terms of pattern, they are two different shapes, that can be suitable for different occasions, if you like classic retro hair, you can choose deep wave if you like free and unrestrained hair, you can choose water wave.
Hair Volume
One of the biggest differences between the two is volume. The volume of a water wave will be larger than that of a deep wave, due to the different arrangement of the volumes. In general, the volume of straight hair is the smallest, and the small curl and the large curl volume are the largest. In addition to the size of the volume, the arrangement of the volume also affects the size of the volume. The volumes of deep wave are arranged neatly and occupy a smaller volume, while the volumes of water wave are more irregular and occupy a larger volume.
Hair Modeling
Deep wave and water wave suit different styling styles and makeup. A deep wave is a kind of hairstyle suitable for classical dress, and the uniform wave will give you a unique elegance. The water wave is more suitable for modern style, is more suitable for daily, more casual hairstyles, natural curls will make your hair look very elegant, not rigid.
Hair Maintenance
Hair care is mainly divided into the difficulty of care and care frequency. In terms of managing difficulty, deep wave is more difficult to manage than water wave, because deep wave's volumes are neat, and you need to groom them to a very neat degree. In terms of care frequency, deep wave has a higher care frequency, because if you want to maintain the flatness of the roll, and the wig is always in a more perfect state, deep wave needs more frequent care.
The Benefits Of Deep Wave Hair
Deep wave wigs can make you look younger and are easy to maintain, and you can use them to create a variety of looks.
Looks younger
As we all know, there's something alluring about deep waves that add volume and texture to your hair.
Easy maintenance
This hairstyle may be perfect for people who find it difficult to style their hair. Finally, all you have to do is wash it and style it a little, using your fingers to create deep waves. Deep waves make your hair look like it has more hair.
Less restrictive
Deep waves and wigs definitely fall somewhere in the middle between straight and curly hair. For one thing, straight hair is usually thinner, making it less attractive. Curly hair, on the other hand, has many problems, such as frizz and dullness. Deep wave hair and wigs can make you look fuller, and you don't even need much care to make sure your hair is bouncy and still looks great.
The Benefits Of Water Wave Hair
The benefits about water wave is that it helps you create a really nice look, it creates a luxurious look, and it's easy to take care of, it's affordable, and you can use it for a long time.
High quality and beautiful appearance
With water wave hair or water wave wigs, you can achieve a very impressive wave pattern. Hair is usually natural and shiny and can be used to achieve the desired look. Additionally, it can add volume to your hair and give it a fresh look.
Soft, luxurious and thick
Water wave hair is very soft, luxurious and thick. To achieve a full-body look, it is enough to reduce the clumps of human hair. These water wave hair bundles give more fullness to the tapers and roots and get thinner towards the ends for a realistic effect.
Easy Maintenance
Besides, the water wave hairstyle is the easiest to maintain. It only takes less time when grooming, but you can enjoy your new hairstyle for a long time.
Affordable And Hold Curls Well
Water wave hair is versatile and multipurpose. More importantly, it is quite easy to style and color, too. Water wave hair ties allow you to create any hairstyle or style you want.
Long service time
When it comes to longevity, water wave hair can last at least 12 months with proper care.
Final words
The differences between deep wave and water wave are obvious, you can easily see the difference if you look closely. If you like these two wigs too, head over to ohmypretty to find your favorite wig.
Comment