OhMyPretty Black Friday Wig Sale: Buy the Most Cost-effective Wig
Nov 06,2023 | OhMyPretty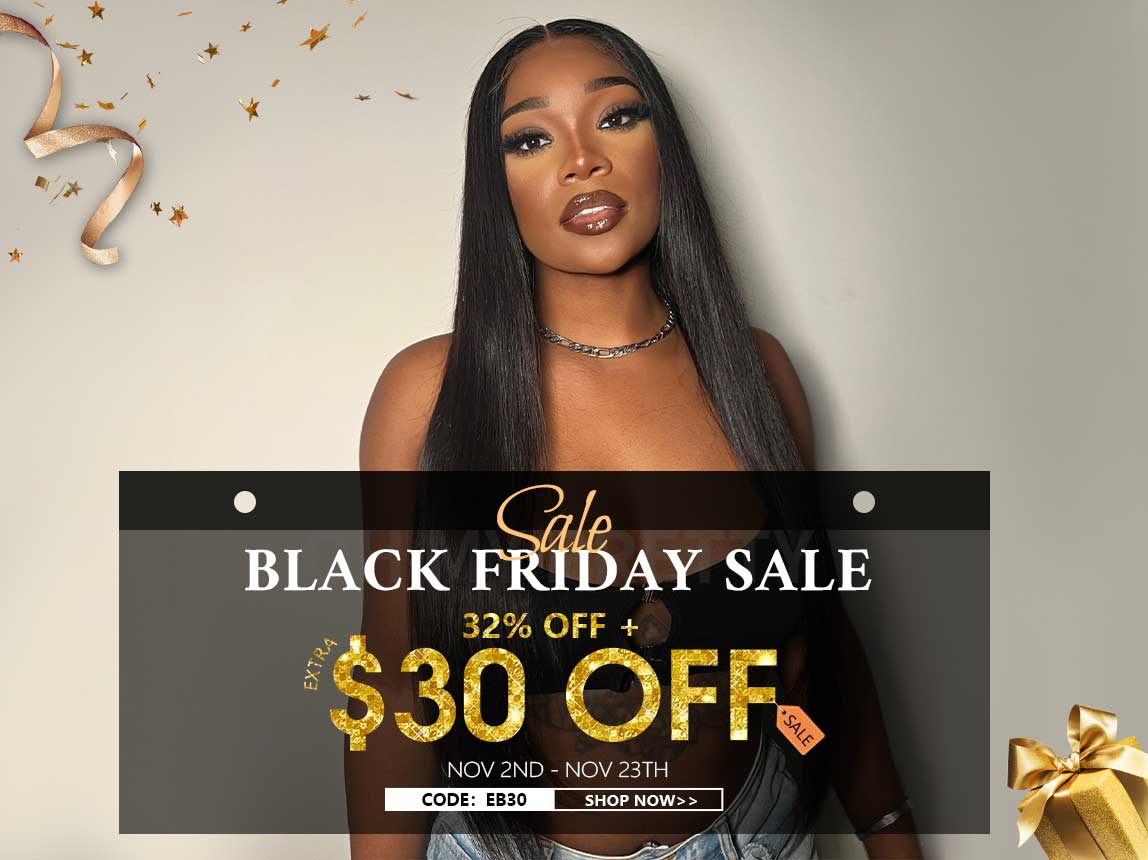 When you think about Black Friday, you can't resist the urge to go shopping. This is the best time of the year to shop because merchants will give you the best discounts. OhMyPretty has lunched the 2023 Black Friday Wig Sale, it's time to get the perfect human hair wig for your Christmas.
What is OhMyPretty Black Friday Wig Sale
OhMyPretty Wigs' Black Friday wig pre-sale runs from November 2 to November 23. All wigs at omp can be discounted by an additional 30% OFF on top of the original 32% OFF with code: EB30.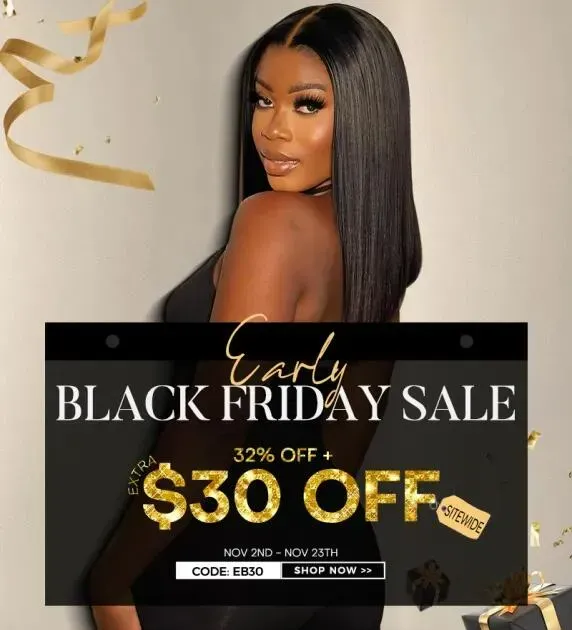 The wig price during the pre-sale period has reached the most favorable range, it can be said that it is the best time to buy wigs, all price cuts of 62%, it can be said that omp activities are the most vigorous time throughout the year. You can choose any style of wig you like, including glueless wigs, pre-bleached wigs, colored wigs, and all wigs can enjoy preferential prices.
OhMyPretty Black Friday Wig Sale: The Best Wig to Try

Why choose glueless lace wig
1. Protect your scalp
Using glue to hold the wig in place can cause damage to your scalp and hair. Glue can cause allergic reactions, scalp irritation, and hair loss when removing the wig.
2. Glueless lace wigs are more comfortable. You don`t need to spend time and effort applying glue, waiting for it to dry, and then meticulously installing the wig. Glueless lace wigs just require you to securely attach the wig to your hair with a comb or clip, which is very easy and quick.
3. Glueless lace wigs are easy to install and remove. You don't need to use any special products or tools, just gently remove the wig. This not only saves time, but also protects your hair and scalp.
Overall, choosing a glueless lace wig will protect your scalp and human hair, reduce the time and tools required for installation, and provide a more comfortable experience.
How to put on a glueless lace wig
Wigs are easy to install without the need for adhesives. Here are some steps:
1. Make sure your hair is neat, clean, and free of messy tangles.
2. Comb or brush your hair to straighten it.
3. Wear a wig cap that matches your head size. Be sure to cover all your hair and pull the wig cap down slightly until it rests on your head to ensure stability.
4. Remove the adhesive-free wig from the package and place it so that the forehead lines up with the forehead line.
5. Starting from the forehead, gradually attach the lower lace part of the wig cap to the scalp. Attach the wig adjustment strap to your head. You can smooth the lace part with your fingers or a small comb for a natural blend.
6. Once the entire lace section is flat on your scalp, use clips or bobby pins to secure it to your hair for added stability.
7. Finally, adjust the position of the wig to make it look more natural.

Why choose pre-bleached knots wig
Choosing a pre-bleached knots wig is a good choice for several reasons.
1. Save installation time
Wigs with pre-bleached knots are bleached during manufacturing, so no additional bleaching steps are required. This means you don't have to spend extra time and effort bleaching the knots and installation is faster.
2. A more natural hairline
You can create a more natural hairline effect by using pre-bleached knots wig. Bleaching your knots will help them blend better with your scalp and look more like real hair.
3. Less work
If you are a beginner or don't have much experience with knot bleaching, a pre-bleached knotted wig is a good choice. It's professionally processed at the factory, and you don't have to bleach or treat it yourself, reducing the chance of mistakes.
Overall, bleached knot wig is a convenient and easy option for those who want to quickly install and achieve natural results.
Black Friday wigs Fall winter

colored wig

What is a fall winter colored wig
Fall winter colored wigs are hair colors that are very popular in the fall and winter. Warm colors such as orange, reddish-brown, and burgundy are often used to match the mood and style of the season. These colorful wigs will add sparkle and fashion sense to your look, look very warm and shine with a unique charm during the fall and winter seasons.
Why choose Fall winter colored wig
There are several reasons to choose a wig in fall and winter tones:
1. Match the season
Wigs in fall and winter tones can be coordinated with fall and winter clothing styles. These colors are usually warm, such as red, brown, orange, etc., which can match the atmosphere of the season, adding warmth and comfort.
2. Fashion and popularity
Fall and winter often have some fashion trends with specific shades, and choosing wigs in fall and winter tones can help you keep up with fashion trends. Such a wig can emphasize your personal style and make your overall look more fashionable and popular.
3. Change your look
Choosing a wig in fall and winter colors will give you even more hairstyle options. By using different wigs to suit the occasion and mood, you can achieve a variety of styling effects.
Overall, choosing a wig in fall and winter tones allows you to adapt to the season, keep up with fashion trends, enrich your hair options and make your overall look more distinctive and individual.
Final words
Colorful wigs and natural wigs are great for everyday and holiday wear. You can find the perfect Wig for you at OhMyPretty Black Friday Wig Sale.
Comment