4 Best Glueless Lace Wigs to Create a Natural Look
Apr 20,2023 | OhMyPretty
If you asked me to recommend a wig, I would definitely recommend a glueless lace wig. This is now the most popular wig style and is loved by most women because it is beginner friendly, hairline protective, pre-cut lace and cost-effective. Today, we will introduce 4 best glueless lace wigs , so as to help you better choose.
What is a glueless lace wig
Glueless lace wigs, as the name suggests, are no glue and can be worn without any extra tools when we wear. The wig is usually made of lace in the front and is a dome cap with elastic band. It is very safe to wear, which can ensure that you will not fall off when wearing, but also achieve the maximum degree of authenticity. The whole wig is realistic and invisible. Because the hairline is made of the highest quality lace, any skin is guaranteed to create the perfect look. At the same time, the hairline is also pre-plucked, and the hair density at the hairline completely mimics that of real human hair, creating natural and real baby hair. And the best thing about glueless wigs is that they don't require lace trimming, which means you can wear them as soon as you get them.
4 best Glueless lace wigs
Features:
Material: 100% Brazilian or Mongolian virgin human natural hair
Lace: 4×4, 4×6, 13×4 Swiss HD Lace, Transparent Lace
Wig Color: Natural black, highlight, blonde, brown…
Benefits: can be dyed and bleached, pre-plucked edges, pre-cut lace, wear and go
1.Straight glueless lace wigs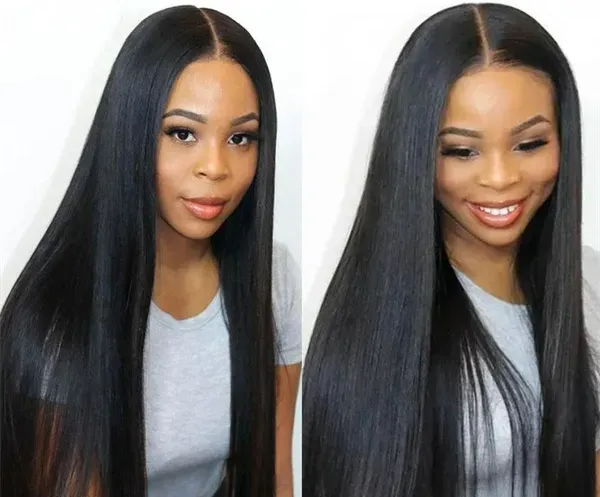 This glueless lace front wig is super soft with 100% human hair. Like our own hair, it can be bleached and dyed. If you want, you can also style the wig with curly hair after you put it on. This way you can change your look without hurting your own hair. wigs can be used for everyday wear and simple styling. The wig is 180% dense, ensuring that you don't look like your hair is thinning. The Bob, which ranges from 10 to 16, and the long hair, which ranges from 18 to 30, are optional. The hair cap has a built-in adjustment band to ensure that it fits most people's head circumference.
2.Water wave glueless lace wigs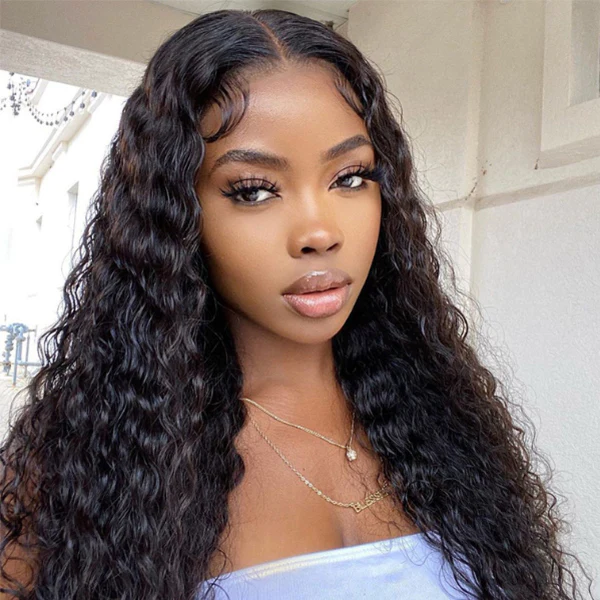 Water wave is a kind of curly hair with small curl degree. This kind of curly hair is also very daily, suitable for most girls to wear. Can meet our daily wear needs. The hair is not too dramatic, but very stylish. If you go straight to a perm, this style is generally more difficult to manage because the curls are smaller, it's not easy to maintain layers, and it's complicated to manage. If you own a wig, it's easy to get a neat, bouncy water wave.
3.Body wave glueless lace wigs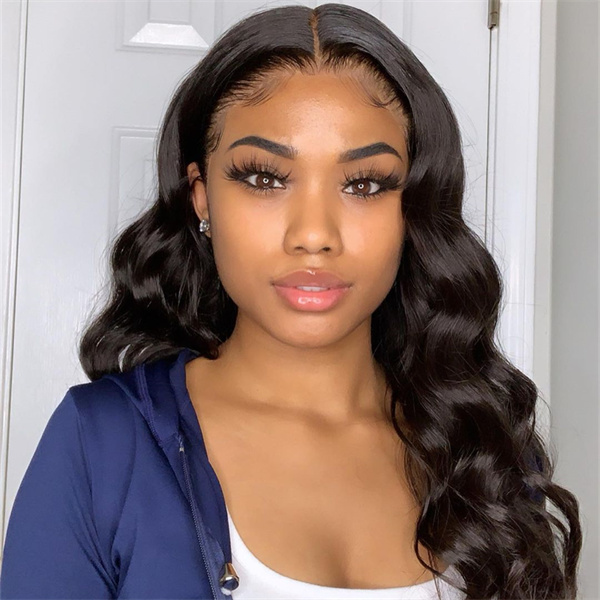 The body wave is the biggest curl of any hairstyle. This kind of wig is generally suitable for long hair. I would recommend 18 inches or longer to show off its unique charm. For lengths up to 18 inches, you can opt for a straight Bob, water wave, kinky curly, etc. The wig can be either 180% or 250% dense. The denser the wig, the richer the curl and the more elastic it will appear.
4.Kinky straight glueless lace wigs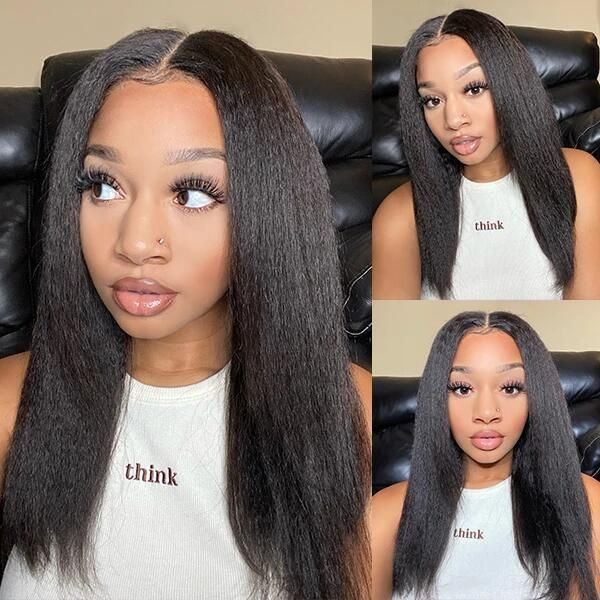 This wig also belongs to a kind of straight hair, is a special straight hair. Because its overall state is straight, but the hair is not as smooth as normal straight wig. It looks like it's been electrocuted, and the good thing about this style is that it's much more expressive than a straight wig, because it's so voluminous, it makes your hair look twice as big.
Benefits of glueless lace wig
Human wigs generally come in two varieties, those with lace edges and those with lace cut. If you're a beginner, a lace cut wig will look better on you. Because you are still the first contact wig, do not have a deep understanding of wigs, glue wig wearing will be a little complicated. You can go online to see how to wear a wig. For a lace wig, you need to purchase not only the wig, but also a whole bunch of tools. It all adds up to your costs. And even if you have all the tools, you may not be able to wear them perfectly. In this case, all you need is a wig that has been trimmed with lace. So, you can wear it easily.
2.Quick and easy to apply
Because traditional wigs are difficult to wear, you need to wear them all the time, during the day and in bed. The most troublesome problem is that you need to sleep with the wig on, because glue wigs usually take a long time to put on and it is not practical for the average person to take them off every day before going to bed, so you need to sleep with the wig on and not take it off for a week or two. Not only is it unhealthy to apply glue to your hairline, it puts a huge burden on your scalp. So if you can choose a wig that doesn't require glue, you can take it off and install it whenever you want. The whole process only takes a few seconds, which is a huge benefit。
3.Comfortable and secure
Those who have not worn wigs may not understand that the comfort of wigs is also a very important issue for us. Some wigs due to rough workmanship, the selection of cheap materials, will lead to a very heavy wig. Because wigs need to stay in place for a long time, if you wear them when you go out in the morning, you'll need to wear them for at least eight hours or more at night. Not only will you be tired at the end of the day, but you'll also have headaches and worse problems. But our glueless wig, on the one hand, does not need glue to hold it in place, on the other hand, it is completely made of the lightest and breathable materials. Maximum comfort is achieved while keeping the wig from falling off the head. The fixed wig is very important, otherwise wearing a wig will affect your daily life, if you wear a wig, do not dare to move around, it will be a very tiring experience.
Final words
Glueless wigs have become increasingly accepted by women because they are cheap, durable, healthy and convenient. 4 best glueless lace wigs we introuduce tody are all vary popular. This kind of wig is pre-cut lace, so it is very convenient for us when we need to go out quickly. It has a variety of styles for you to choose from, such as straight, water wave, body wave, kinky straight and so on.
Comment