5 of the Most Popular Natural Human Wigs
Apr 11,2023 | OhMyPretty
Wigs have become more and more accepted and a part of our everyday lives. What we used to have to do before going out was to wear makeup and accessories, but now we have to wear wigs. So, today we will introduce five of the most popular, natural and authentic wigs.
1.What Kind of Wig Looks Most Natural?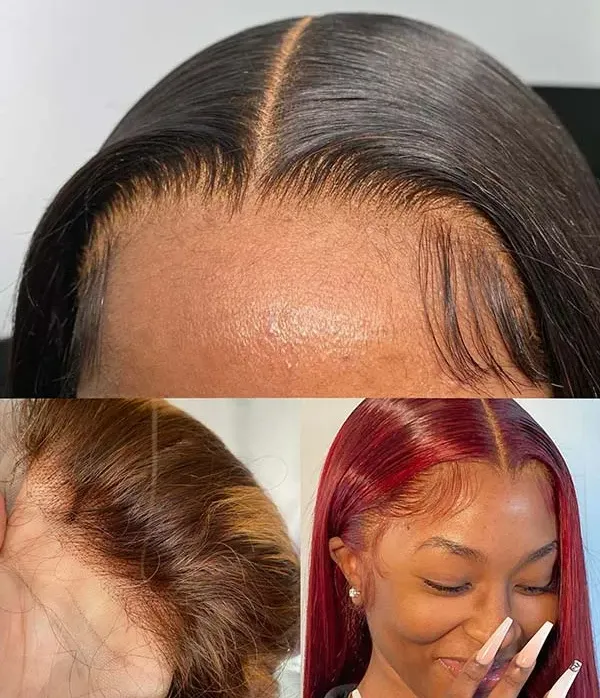 Made of Human Hair
If you want a wig to be natural and realistic, you must choose a wig made of human natural hair. I don't need to explain why, because it is the truest. Most popular wigs on the market today are made from real hair, as synthetic wigs are no longer suitable for our daily lives. Most of the time, you probably only wore a wig to a party or an event. Because wig technology wasn't as sophisticated as it is now, wigs would have been heavy and unreal. But over time, wigs have become thin and realistic. Wigs have become one of the most important parts of our lives, and we increasingly wear them on a daily basis.
High Quality HD Lace
Wigs today are usually made of lace instead of other materials, meaning that the part of the scalp that is exposed is made of lace. The lace itself has tiny grids, and we embed hair in each grid to make it look like our real scalp, and at the same time, these little grids are very breathable. Our wigs are made of high-quality HD lace, thin and invisible, and transparent lace has a certain difference. Transparent lace will look a little pale on your head, but HD lace wig will not. It fits in well with our skin and blends in with our skin tone. You may wonder why it fits so well with all skin colors. Because it's thin enough, like we can't see the color of air. But you don't think thin quality is bad, the material itself is very sturdy.
Pre-Plucked Hairline
If the wig looks real, in addition to the hair and parting, there are also hairline which is usually the first place that people see when they touch you, so your hairline will not naturally be seen by others. To avoid this awkward situation, you must choose a lace wig with a pre-plucked hairline. Our hair is not the same thick, generally thicker in the back, the hair at the hairline will be thinner, and the hair near the hairline will be much less dense than in the back. That's the point of the pre-plucked hairline, to make the wig more realistic, to make the wig with natural baby hair at the hairline, natural and real.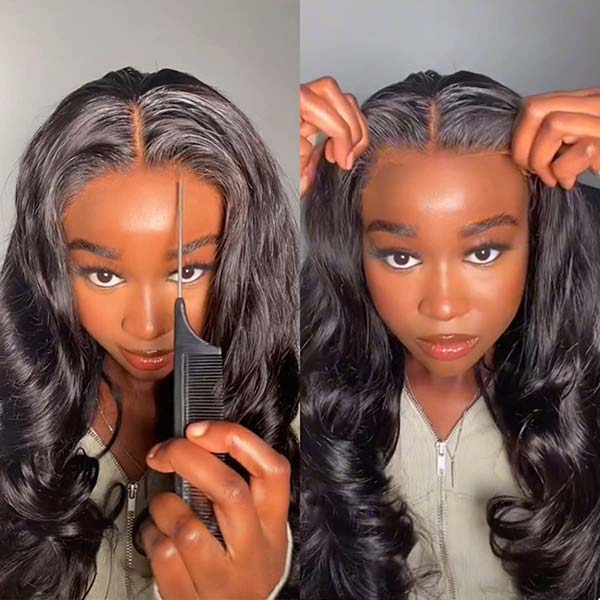 Glueless
If you want a natural wig, you must choose a glueless wig. Wearing a traditional wig requires a large amount of glue at the hairline, which is neither natural nor healthy for the scalp. As anyone who has used glue on false eyelashes or double eyelids knows, glue can't be completely transparent. Although the glue will be transparent after drying, but generally glue will have two kinds of problems. It's either going white or it's going to reflect light. Eyelash glue is placed under your eyelashes, and the area is relatively small, you will of course feel more invisible. But if you apply it to a large area of your head, you can still see it.
If you've seen pictures of wigs online before, or if you've worn wigs before, you'll notice that most wigs have an extra lace edge in the front, which is what we need to trim ourselves. This kind of wig is not as real as pre-cut lace wig, and it is also very inconvenient. After trimming, glue is needed, so we try our best to choose wigs that have been trimmed with lace.
2. 5 Most popular wig textures
Choose wigs on the one hand according to our own preferences, but also take into account the other side. When choosing a natural looking wig, be sure to consider your personal habits as well as your career. If you're a teacher, a blue wig is definitely out of place. Also, if you need to exercise a lot, it's not suitable for extra-long hair, which can easily get tangled.
Body wave
A body wave is a bouffant hairstyle that looks natural. It has the feature of straight wave and curl wave. Body wave curls look softer because the curl is larger, and this type of wig is generally suitable for long hair styles because it has large curl. If you are not satisfied with straight hair but are interested in curly hair, body wave wig will be your best choice.
Straight
If your hair is naturally volumized, you might want to try a clean, straight style. You don't need a hair straightener to harm your own hair, you don't need any potions, just a wig can help you achieve it. And you can wear it for a long time. Straight hair is the easiest wig to care because it's very smooth and doesn't tangle like curly hair. If you're up for it, long straight or straight bob hair is a good option.
Kinky straight
The biggest feature of this wig is that it goes with everything, so you don't have to worry about what to wear with your hair or makeup every day. Because it's just like your own hair, natural and real, it's a great way to show off the volume and texture of your hair, even if you don't wear makeup.
Water wave
A water wave is much less curly than a body wave and is considered a small curly wig. It also has a natural curl, it doesn't curl in one direction, there is no rule in the direction of the curl, it is similar to natural curls, for girls who don't like straight hair but don't want too big curls.
Deep wave
Deep wavy hair has a very different curling pattern than water wave hair. The curls run in one direction, are relatively flat, and you can clearly see that each curl is on the same level. The volume of the wig is smaller than that of the water because the curl is relatively neat.
3.Final words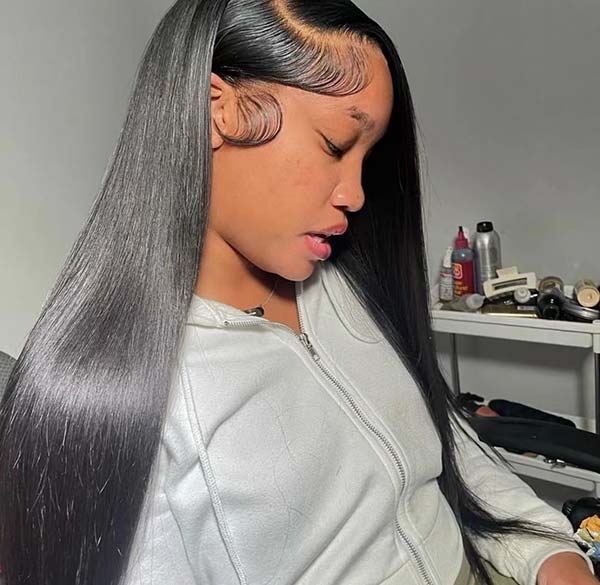 Having the most suitable and authentic wig is our ultimate goal. You can choose what you like according to these patterns. If you're looking for the most realistic and natural wig, make sure you choose real human hair, made with HD lace and a pre-plucked hairline to qualify as a natural wig. Try not to choose a wig that needs to be glued, but to choose a pre-cut lace edge, which will be much easier to wear.
In short, the most important place to get the natural look you want is in your hair, lace and hairline. Choose a lace wig with a pre-plucked hairline. Your wig will look natural from top to bottom. And there includes the types of wigs I just described. You can refer to pictures or model effects to see if they suit you. There's not much difference between the picture and the real thing. Browse our selection of natural human wigs and you will certainly won't disappoint!
Comment