What are peekaboo braids and how to create this enchanting hairstyle
Sep 21,2023 | OhMyPretty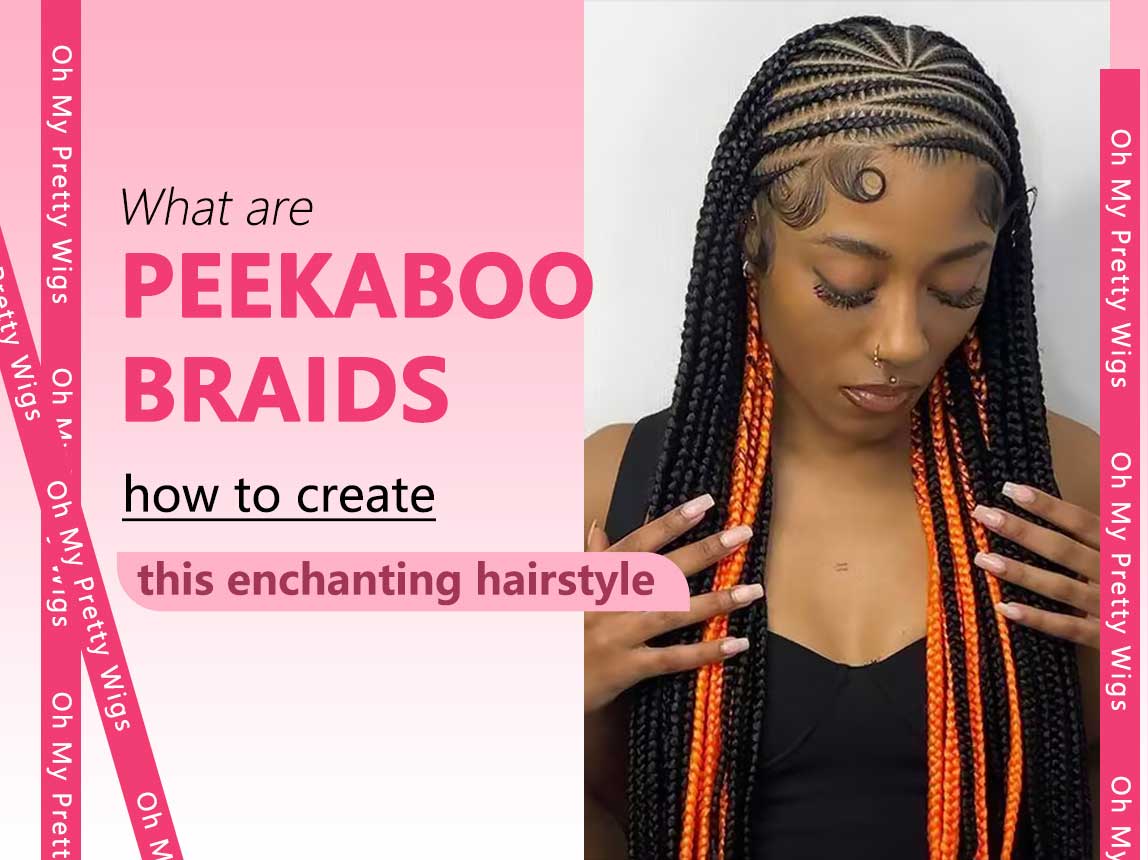 Peekaboo braids are the style that can express your uniqueness. It's not like a regular black hair or a colored wig. It's a combination of the two. If you are also interested in trying this unique wig, please read on.
What Are Peekaboo Braids?
Peekaboo braids are the latest trend in fashion circles. Peekaboo braids are colored braids that are added to the ends of your braids to add layers and make your hair look designed, rather than just plain black braids.
Peekaboo braids are available in a variety of colors. If your natural hair is black, you can choose a combination of peekaboo knotless braids like pink, purple, orange, or any other color. peekaboo braids are usually made with synthetic hair or human hair extensions. If your hair is long enough, you can braid it directly. If it is not long enough, you can use black hair extensions to increase the length.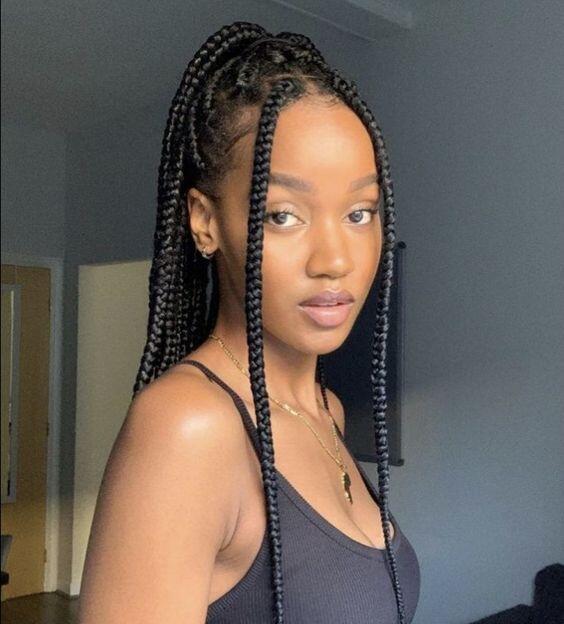 How Much Do Peekaboo Braids Cost?
Peekaboo braids typically range in price from $100 to $300. The price depends on many factors, mainly: the length of the braids, the volume of braids, whether black hair extensions are needed, and so on. The normal size of hair extensions is 3 or 4 bundles, about $300 for three 26-inch bundles and one closure, and you can get enough hair for a pretty nice look.
How Long Do Peekaboo Braids Last?
How long a Peekaboo Braids can last depends on many factors, it usually lasts 4-6 weeks and you can judge how long a wig can last based on the following factors.
-Braiding techniques: When braiding peekaboo knotless braids, you need to master a certain skill, in order to make the braid last longer, do a section of the hair, and then firmly secure the hair extension in your natural hair, so as not to fall out.
-Timely care and cleaning: hair is easy to oil and frizz for a long time, timely cleaning and care is the secret of long-term maintenance of peekaboo knotless braids.
-Sleeping habits: When we sleep, we create huge friction on our hair, loosening or ruining the hairstyle. You can layer silk on your pillow or wear a silk hair hat to avoid damaging your hair.
Are Peekaboo Braids and Regular Braids The Same?
Yes. They are made in the same way, the only difference is that peekaboo braids need to add a few more colorful braids at the root of your hair to make your appearance look more beautiful.
How To Do Peekaboo Braids?
Step 1: Prepare hair extensions
This style requires two different colored braids. You can use any color you like. You can use the hair 1B and red.
Step 2: Fix your hair
Be sure to wash and dry your natural hair. If the black edges stick out, you can trim them later.
Step 3: Start braiding
- First, divide your hair into three parts (two in the front and one large part in the back). Wrap the front part around it so it doesn't get in the way.
- Next, use a tail comb to shape the exact part of the braid. Smooth your hair with oil.
- Focus on the folding technique. For knotless braids, take a section of your hair and braid a few stitches into it. Next, tie the braided hair into the middle of the braid. Wrap the braided hair around the braid and work your way down. The key here is to tie the hair behind the braid. This mixes the colors and avoids visible black or red streaks. Style your hair into braids using hair oil and gel.
- Continue knitting until you reach the desired length. If you want your hair to be longer, you can add more extensions to the ends.
- Repeat this process for all braids to secure the hair. Do not rush as it may take some time.
Step 4: Create curl ends
Once all the braids are complete, curl the ends of your hair for an edgy look. To create curls, use a curling iron and hot water. Remove the iron once the curls are set and enjoy your gorgeous peekaboo braids.
To style your hair, apply mousse to your scalp and braids. Next, wrap your hair in satin or fluff it and style it with a hair dryer.
---
Final words
To create a peekaboo braid style, it is best to choose high-quality real hair, such as OhMyPretty, which can give you a better hair experience.
Reading recommendations
■ How many packs of hair for jumbo knotless braids?
Comment